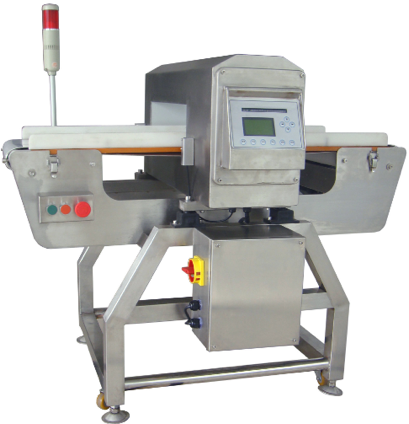 DaVinci-D series Metal Detector
Applications:
It is suitable to inspect various products, if product contain metal, it will be rejected into bin, qualified bag will be passed.
Features:
Advanced DSP technology to refrain product effect;
LCD display with simple operation;
Multi-functional and humanity interface;
Product memory and fault record;
Digital signal processing and transmission;
Automatic adaptable for product effect.
Optional reject systems;
High protection degree and height adjustable frame. (conveyor type can be chose).
Specifications
Model
DaVinci-D300
DaVinci-D400
DaVinci-D500
Control System
PCB and advance DSP Technology
Weighing range
10-2000 grams
10-5000 grams
10-10000 grams
Speed
72 feet/min
Sensitivity
Fe≥φ0.8mm; Non-Fe≥φ1.0 mm; Sus304≥φ1.8mm Depends on product
Belt Size
10¼"W x 47¼"L
14"W x 47¼"L
18"W x 70¾"L
Detection Height
2" to 7¾"
2" to 11¾"
2" to 19½"
Belt Height
31½" + 4" adjustable
Construction
Stainless Steel 304
Power Supply
220V Single Phase
Packing Dimensions
53"L x 40"W x 57"H
53"L x 43¼"W x 57"H
73"L x 47¼"W x 57"H
Gross Weight
440 lb.
550 lb.
770 lb.